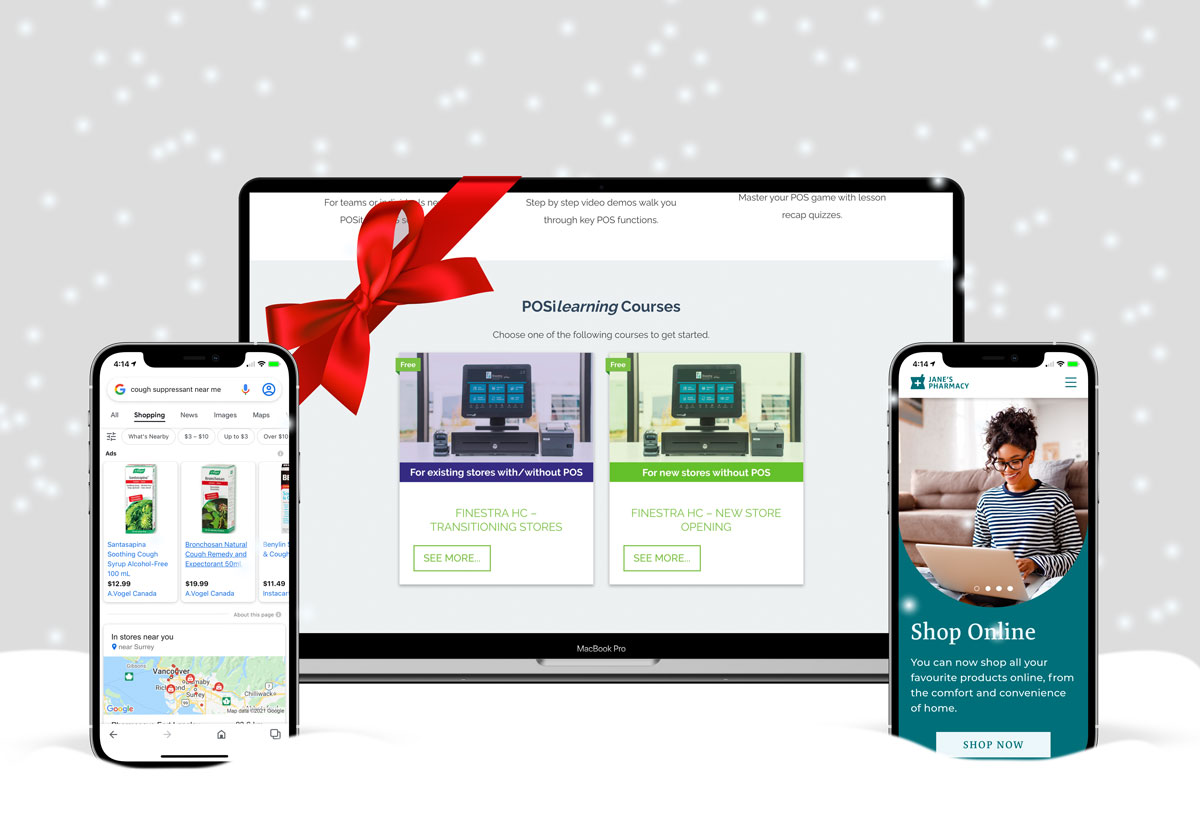 December 17, 2021
POSitec 2021: A Year in Review
It has been an incredibly busy year at POSitec Solutions and as we approach the closing of 2021, I wanted to take a moment and share with you some of our development highlights for this year. 
Our focus has been on developing software, programs, and systems that not only enhance what we currently offer to you, our customer, but also to ensure using our POS systems is easy, user-friendly, and adaptable.  Your customers expect more in today's retail climate and we recognized that.
In October 2021 we implemented a quarterly software release schedule. This was an exciting milestone for POSitec Solutions. Stores can use the new updater tool to keep their system up to date with all the new features as they are released. Watch for the January 2022 release update…
I believe that our integrations with National Banner Hubs, Pointy from Google and Merchant Service vendors as well as our new eCommerce, POSilearning, Finestra Vendor Portal, and Web Delivery platforms will provide all the tools your store needs to operate in an ever-changing retail environment!
Mark Dunlop
CEO & President, POSitec Solutions Inc.
As the holidays begin and the year slowly draws to an end, we wanted to remember all the amazing things that happened in 2021. Our team continues to work hard to provide exceptional customer service, technical support, and products to our customers and clients. On top of that, this year POSitec released a number new innovations this year that we wanted to highlight!
1. POSilearning 
POSilearning is our new education platform! Designed to help first time POSitec and Finestra users learn the basics, POSilearning is an easy to use online learning dashboard. POSilearning includes two online courses to support your team's training on their new POS system, video tutorials, resource materials, simple quizzes, and progress reports. It's the perfect way to have a smooth onboarding experience, plus it's free for all POSitec customers. 
2. The POSitec Vendor Portal
This year we also launched our POSitec Vendor Portal, which we developed to streamline the update of vendor catalogues and wholesale purchasing, receiving, and cataloguing. Gone are the days of using a multiple apps for purchasing and receiving! Finestra's Vendor Portal brings all of a store's vendor needs into one spot.  
3. POSitec eCommerce Sites
This year, POSitec expanded its product offerings to include ready-made online stores backed by the power of POSitec solutions. With our eCommerce sites, our Finestra and Finestra Health Centre products are easily integrated with your online store, meaning that you can handle both stores from a single location! These eCommerce solutions are the perfect fit for Canadian pharmacies looking to bring their businesses online. 
4. Pointy from Google
A new offering available to all POSitec customers, Pointy from Google is an easy way to get your name out there and target your local shoppers. Pointy displays your in-store inventory on Google and allows shoppers to locate your store and buy the products they need. It's the perfect partner for your new POS system or eCommerce store!

5. Our Quarterly Software Updates
We've implemented a new quarterly software release schedule for our products. Our stores can now use our updater tool to keep their system up to date – which means that our clients can get the benefits of new features as they are released!
Other developments we made this year include: 
Finestra Delivery Module
– the POS solution where you can set orders for delivery, assign to a driver, then monitor the status of the delivery in real time.
MONERIS Pinpad Upgrade
– our development allows all stores with Moneris pinpads to upgrade to the newest version.
Email Receipts & Statements
– this feature allows the cashier to email a customer's receipt instead of printing it or choosing no receipt at the close of the sale.  Customer's charge on account statements can also be emailed.
Gift Receipts
– cashier is able to print gift receipts for purchases processed through the POSitec POS system.
Ability to Personalize the Demographic keys
– this feature allows you to create your own Customer Appreciation Key!
Freight Costs
– this feature provides the ability for freight costs to be added to the receiving costs of items.
Wishing you a wonderful Holiday Season from everyone at POSitec Solutions!
Are you looking for a new POS system for your pharmacy? Chat with one of our dedicated team members to learn more about how you can increase your efficiency and improve your customer management with POSitecs POS system packages. Contact sales@positec.com today!