Simple, User-friendly, POS Systems
TRANSITIONING TO A NEW POS SYSTEM
You have had your current POS system for a while and it is no longer providing all the features and benefits that your business requires to operate efficiently. Why not consider transitioning to a Finestra or Finestra Health Centre point of sale system? Our 25+ years of experience recognizes and understands the challenges with transitioning to a new POS system, and have developed a process to ease the transition… and ease the pain!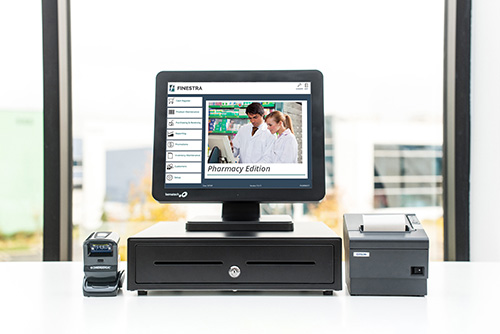 POSitec POS Advantages
Printing Labels & Signs
Loyalty and Giftcards
Integration with National Banner programs
Integrated debit/credit
Inventory Management
Customer Files
Charge on Account Function
Business Management Reports
Transition your Store to a New POS in less than 48hrs
We'll take care of the process, from start to finish
Project Manager to coordinate with you through the entire process.
Work directly with your store's main contact person.
Provide a project timeline at the outset to ensure success.
Provide How-To documentation on roles and responsibilities.
Provide training as required to assist with the transition.
Coordinate integration of your National banner programs.
Assist with Merchant Services and Wholesaler integration.
Assist with initial ordering and receiving procedures.
Provide RFP Handheld unit for the data build process.
Weekly follow up calls.
Exceptional Customer Support
24/7 service provided with every POS System
Knowing there is someone at the end of the phone line or email who can answer your questions, goes a long way in providing peace of mind with a point of sale system. Customer service support for individuals who have retail industry knowledge and hands-on experience at the store level is important when choosing a POS system.
Transitioning your POS to POSitec: Everyone Benefits!
Your Customers benefit
Valued customers can be rewarded for shopping at your store. With a charge on accountability with POS, customers are able to charge to the account right from their till purchase. The customer's experience is positive with integrated debit/credit.
Your Vendors benefit
With an inventory management system, there are reduced errors and return to stock products. Better management of vendor purchase orders. With select wholesalers, stores are able to communicate their orders electronically.
Your Employees benefit
Your employees will appreciate the ease of ordering and receiving products. Integration with National hubs to provide promos and pricing reduces time spent manually completing these tasks. Software that is user friendly and easy to learn.
Will this POS system integrate with my Pharmacy, Wholesale or Merchant Services systems?
Having the ability to order and receive seamlessly from your Wholesaler, download promotional programs from your National hub, and process your customers quickly and easily at the till are three of the top reasons to have a POS system. Many vendors will tell you they are fully integrated but upon further investigation, you may discover that manual work may be required on your or your employee's part.
What about set up?
When choosing a POS system, make sure it is easy to set up and simple to use. You should be able to manage the setup process yourself and training employees should take minutes, not hours. A POS system should be intuitive, easy to learn and a pleasure to use. From the start you and your staff should not be overwhelmed.
Still unsure, ask for references and look for testimonials. If the system is as good as it is professed to be, customers will have no problem singing its praises.
Transition Request Form
Have questions? Need a quote? Contact our sales team today and we'll get back to you within 1 business day.