December 5, 2018
POSitec Owners Have an Exciting (and Lucky) Week!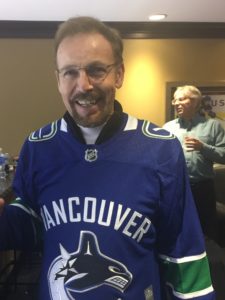 It has been quite the week for Brian and Deb Joel, the Owners of POSitec Solutions Inc. POSitec was honored to be invited to attend the recent Vancouver Canucks – Las Vegas Knights game as both an Epson Envision and loyal ScanSource partner.  It was a fun-filled night capped off by Brian Joel, our CEO winning the Canucks Jersey.
A big thank you to Louis Mangov of Epson Canada and Peter Allen of ScanSource Canada.
The excitement continued with Brian and Deb Joel attending the Wally Buono Retirement Luncheon at the Vancouver Board of Trade.  It was an exciting day as Mayor Kennedy Stewart proclaimed December  4th, 2018 – Wally Buono Day in Vancouver!
Deb and Brian have been loyal season tickets holders of the BC Lions Football club and were thrilled that they were able to secure tickets for this important event.  And…the day was even more memorable with Deb winning a signed football!
In 2014, Wally was inducted into the Canadian Football hall of fame and the following year, he was invested as a member of the Order of Canada.
As a player, Buono won two Grey Cups in five appearances and he coached five Cup wins in nine appearances. He retires as BC Lions Head coach and is one of the most successful coaches in history.